Introduction to the Wood Workshop
This very popular series of workshops covers a range of equipment found in our wood workshop.  It's suitable for novices or anyone wishing to upskill, particularly in power-tools and machinery.  If you are new to woodworking, attending this workshop is a requirement of our Membership.
​​Each session will offer the chance to use different skills, tools and machinery in a supportive, friendly setting whilst making items for our local community, environmental groups or for our community partners like Urban Ark – Manawa Taiao including:
timber basics, marking and measuring, hand-saws, and circular saws
power-tools such as planers, drop saws and bench saws
drills, bits and drill presses plus jigsaws and bandsaws
rotary tools (Dremel) and working with metal including cutting and grinding
basic joints, assembling work, screw/nail fixings, drivers and jigs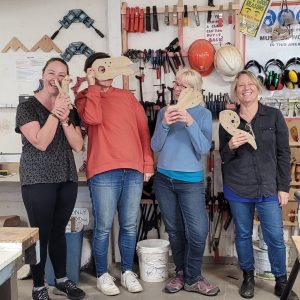 This introductory workshop series is perfect for women | wāhine who are interested in making something functional to take home.  The process of creating our uniquely designed planter box in a welcoming and supportive environment will not only give you the opportunity to become proficient in a range of skills and equipment found in our wood workshop, it will build your confidence to have a go at other projects at home.
It is suitable for those who are just beginning their woodworking journey and includes:
introduction to design principles, cutting lists and reading plans
drop-, circular and table saw techniques
clamping techniques, fixings and brad nailers
joints including butt, mitre and rebates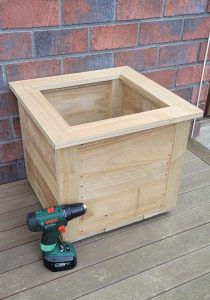 If crisp, clean lines are more your thing then our 'Cool Stool' workshop will be perfect fit, literally.  Using cabinetry techniques and materials, you learn simple cabinetry design that you can adapt to create something to suit you.  You'll get to practice use of the table saw as well as jigsaws, hole-saws, drops saws plus drills and drivers and sanders.
This workshop works better for women who have some previous experience with power-tools.  If you're a complete novice we recommend doing our Introduction to the Wood Workshop series first to gain confidence in working with the power-tools and machinery.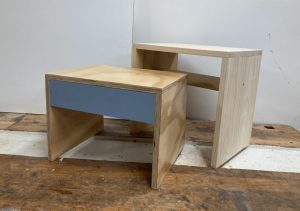 We like to think of this as our 'level 2' workshop.  We've designed the content for those who have completed our Introduction to the Wood Workshop, or women with some experience but want the opportunity to try their hand at some finer woodworking skills, by making a wall hanging shelf.  The principles learnt can be applied to lots of other wood working projects that require a joint.
It is a unique opportunity to be both creative whilst learning new, and embedding existing skills.
Tools and machinery available to use include
hand tools such as chisels and hand planes
skilsaws, drop-saws and bench saws
edge and plunge routers
jigsaws, electric planes, drill press
planer/thicknesser, sanders, etc.