Woodworking Project Ideas
Looking for a project to practise your woodworking skills? Here's a few tips and ideas to get you started.
Choosing a project
When choosing what to make, think about….
What inspires you?   Is it furniture, upcycling, children's toys?
How difficult is it relative to your current experience?  You may be better off practising your skills on an easy project to begin with.
How big is it?  There is limited space in the workshop and you will need to take it home with you after each session.
Found instructions online, or in a book? Make sure you are clear about the process and the materials.  
What materials can I use?  New or recycled timber, manufactured or composite boards (plywood, chipboard, MDF, etc), unmilled, rough sawn, dresssed… the list is long.
Where can I get materials from?  Reclaimed material sources, DIY stores, pallets, timber mills, online auction sites.  Have a look online but do remember to check your sources especially if you are looking for hardwoods. Look for reliable labels such as FSC.  Check our useful links page for suggestions.
Whatever you choose be prepared to laugh at any mistakes, and cry with joy when you've finished and, of course, enjoy the journey 😄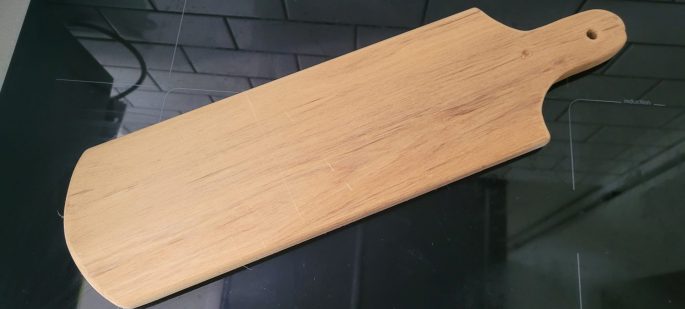 Serving platter/paddle board
A great way to upcycle floorboards (Rimu or Kauri are a New Zealand favourite) and they make great gifts too.
Skills/techniques practised include measuring, drilling, sawing, planing and as much creativity as you like
Tools/machinery that could be used include squares, saws (hand, bench, compound and jigsaws), hand or electric planes, drills and drill presses, sanders
Chopping board
Making a chopping board can actually be simpler than a serving platter (above) or you could try another skill called laminating, where you join sections of timber to create a single piece with a large surface area.  Macrocarpa (aka cypress) is often used for chopping boards but you can use others, especially a hardwood like oak which is dense and very durable. You can even alternate different woods to create a pattern if you choose to laminate.
Skills/techniques practised include measuring, laminating (gluing), clamping, sawing, planing, finishing oils
Tools/machinery that could be used include square, sash cramps, panel or band saw, planes, shooting board, cabinet scraper, sanders
* Full instructions available as a member of Wood Club.
 CUTTING LIST (with suggested sizes) to make a 450 x 280 x 45mm board
 Item
 Material
 No
 Length
 Width
 Thickness
 Board piece
 Macrocarpa
 8
 600mm
 350mm
 45mm
Kids toys
Toys for younger children don't have to be complicated or particularly pretty.  A set of square or oblong blocks will provide a lot of fun stacking and knocking over, and who doesn't love a game of Jenga.  You'd get a lot of practice with accuracy and cutting skills making those 54 blocks!
Stuck for ideas but still want to practice your wood working skills? Urban Ark – Manawa Taiao are always looking for more safety boxes (example pictured) in support of Predator Free 2050.
We supply materials and support, you practice your skills, and Auckland gets help to protect its native biodiversity.  Everyone's a winner.